Japanese Cuisine
Enjoy Japanese Cuisine through 5 Senses
Enjoying Professional Cooking Techniques
The seasonal delicacy of Japan, a country with four seasons, are reborn through the amazing cooking skills of Japanese chefs
We offer the best seasonal delicacies every time - for example in Winter when the fishes with our boothing mountain view is the place where our professional chefs perform their best skills of cooking Japanese cuisine while keeping the freshness of the ingredients.
Japanese Restaurant Fugetsu (風月)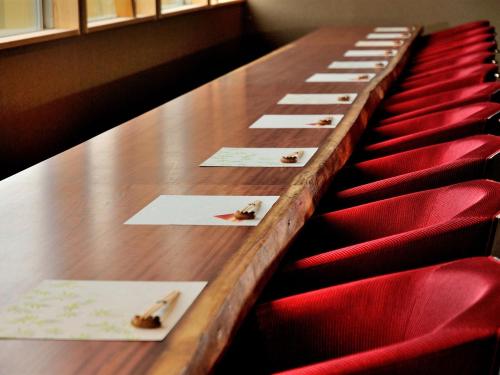 Enjoy your dinner while gazing at the overwhelming panoramic mountain view. The Mt. Myojogataké (明星ヶ岳) and Myojingataké (明神ヶ岳) are especially famous for the Daimonji fireworks festival in August.
The combination of the names of the restaurant Hanadori (花鳥), at our sister property Gora Tensui, and our restaurant Fugetsu (風月Fugetsu) means the beauty of nature in Japanese. You will experience the harmony of the authenticity of Japanese cuisine and our best seasonal ingredients from the nature of Japan. Enjoy this with the amazing nature of Hakone.
In Regards to Food Allergic Guests
Guests with food allergy should inform us at least 3 days in advance to guests' arrival date in order to allow us to prepare alternative dishes.


Allergies We Can Handle
Shrimp, Crab, Chicken Eggs

Allergies We Cannot Handle
Soba, Peanut, Flour, Dairy Products etc.


*Surcharge may apply for preparing alternative dishes that we provide outside our fixed dining course.

*Please note, the allergens specified on the left may not be 100% removed as the cookingwares and dishwashers in our kitchen are shared across our property.

*For guests with serious food allergic risks, feel free to consult with us about bringing your own food to our property in advance.

*If you can not check in by 19 o'clock, we can not prepare you dinner

*Please inform to the hotel if you prefer vegetarian menu.